Poljot 31681 Chronograph Analog Watch Wrist Watch Russian Pilot P-Sports 43.S
Chronograph Poljot 31681 mechanical watch P-SPORTS 43.S wrist watch PILOT
Sports chronograph that changes from blue to purple. An accurate mechanical timepiece. The beefy brushed and partly polished stainless steel case with Ø 43mm creates a young and modern look. PILOT CHRONOGRAPH P-SPORTS 43.S - SURFER - 31681 / 008.3.001
A beautiful sports chronograph 43.S - SURFER
Brushed stainless steel, stainless steel bottom (+ additional glass bottom!), Ø 43mm, height 13mm, bridge width 22mm, 3ATM waterproof, fluted crown.
Dial: ultramarine blue, hands: metallic with white luminous paint, numerals / indices: silver metallic applied
Bar width 22mm, carbon ribbon with color-coordinated seam
A wonderful collector's item!
STEEL, STRONG & STYLISH

This sports chronograph is an accurate mechanical timepiece. The beefy brushed and partly polished stainless steel case with Ø 43mm creates a young and modern look.
The indices are attached and additionally provided with luminous material. The dial is kept in ultramarine blue. The luminous hands and indices contribute to the easy readability of the time in the dark.
The PILOT logo can be seen in the upper half of the dial.
The carbon ribbon rounds off the sporty appearance.
Movement: This chronograph is equipped with the mechanical Poljot hand-wound caliber 31681, which has been built by the well-known Moscow watch manufacturer MakTime since Poljot abandoned watchmaking production. This is also where the final assembly of this watch took place. Unfortunately MakTime has not been producing since 2012. The Russian chronographs in mint condition on the market are becoming rarer.
GLASS BOTTOM is also included for FREE.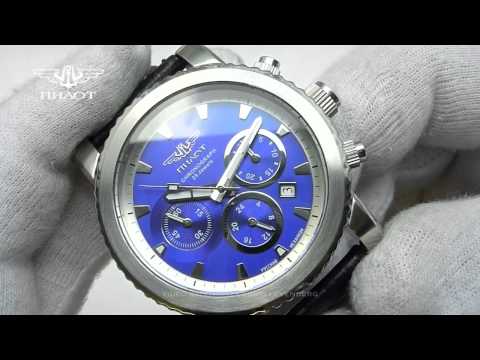 PILOT | P-SPORTS-43.S | cal. Poljot / MakTime 31681 - YouTube
Video will open in a new window
[isdntekvideo]
---
FUNCTIONS:
Time display: hours / minutes / seconds, date, chronograph: stop function (adding up), 30-minute counter (stop function), 24-hour display
INDICATORS | SHOW: Small seconds at position 9, central seconds hand (stop function), 30-minute counter at position 3, date display between positions 1 and 2, 24-hour display at 6 o'clock
CASING: Brushed stainless steel, mineral glass, stainless steel bottom, Ø 43mm, height 13mm, bridge width 22mm, 3ATM waterproof, fluted crown.
DIAL: Dial: ultramarine blue, hands: metallic with white luminous paint, numerals / indices: silver metallic applied

---
Technical data Poljot / MakTime 31681
Elevator: manual
Movement caliber: 31 mm
Movement height: 7.38 mm
Jewels: 25
Functions / complications: adding up hours, minutes, seconds, calendar, stopwatch
Shock protection: Yes (Poljot)
Frequency: 3 Hz (21,600 vph)
Daily rate deviation: from -10 to +50 s / day (manufacturer specification MakTime)
Power reserve: Chronograph off: 42-45 h - Chronograph on: 37-39 h
---
The Poljot 31681 movement
Has a fast reaction speed and indisputable durability. It has a strong Russian heart, driven by Swiss precision. In the early 1970s, Poljot wanted to modernize the 3017 chronograph movement that had been produced to date. The number should increase. The filigree ratchet mechanism of the 3017 was to be replaced with a modern cam switch mechanism. The 3017 was already built on a production line imported from Switzerland by Venus (Fabrique d'Ebauches Vénus SA) based on the Venus 150. This tried and tested procedure was to come into play again in the early 1970s with the new chronograph (31mm). This time a production line was taken over by Valjoux SA (now ETA, Swatch Group) and the movement was given an even stronger Russian heart (balance). The basis for the Russian Poljot 31681 was the Valjoux 7734 resp. 7733. The machines, plans and know-how were bought again in a very good place.
---
History of Poljot
This goes back to the year 1930. At that time the factory was still called the "First Moscow Watch Factory". The first movements of the new Type-1 for mass production were manufactured for the first time on an imported production line of the Dueber-Hampden Watch Company, Ohio. By 1952, production had increased to 1.1 million watches. The country should be supplied with good watches. The military and science needed more precise clocks. In 1964 the name of the factory was changed to Poljot (flight). The watch industry was not only a necessity but also a showcase project in the Soviet Union and Poljot became the greatest success. Other works such as the alarm plant Poljot 2612 and many more were produced. In 1990 the production level was 5 million watches a year. Hundreds of employees made this achievement possible. In 2004 Poljot had to go bankrupt despite a long and proud history. Many highly qualified employees lost their jobs at that time.
---
History MakTime
However, the 31mm chronograph production line was taken over by the Moscow company MakTime von Poljot from 2005 and thus saved for the time being. The good standard of production was maintained and in large parts even improved. MakTime then unfortunately had to stop production in 2012 due to bankruptcy. Too few quantities were sold internationally. In the meantime, the company had 700 employees divided into the production of the 31mm chronograph movement and the clocks in Moscow. The other employees worked at the Penza watch factory and produced smaller movements for ladies' watches under the Zaria brand.
---
Expiry after purchase
The watch is checked by our watchmaker for at least 1 day. Many of our watches are New Old Stock, so our watchmaker measures the watches on the timing machine and adjusts them if necessary. So please be patient that these watches are not dispatched on the same day.
---
Service and repairs
We have specialized in the repair of Russian clocks and movements for over 25 years. In our fully equipped workshop, everything can be serviced, repaired or repaired around your clock by one of our watchmakers.
---
---